SKI TOURING IN KYRGYZSTAN
A trip that lasts a lifetime!
This program is oriented towards people who want to ski tour in great places almost every day of the program while avoiding long-distance driving. You will ski tour in scenic and unique places and stay in the best wild yurt camp in Kyrgyzstan.
Hot sauna and small heated poll

See Peak Prjevalsky (4273m a.s.l.) from the highest panorama point of the ski area

Visit Jyrgalan and Karakol ski bases
SKI TOURING IN KYRGYZSTAN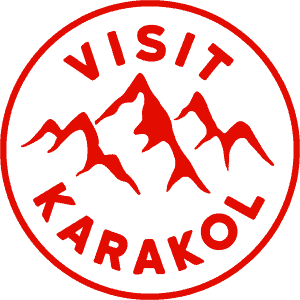 This tour is offered by Visit Karakol Tour Company. As a member of Destination Karakol, this business is actively invested in promoting tourism and community development in Karakol and the surrounding region.
Necessary equipment:
Ski touring equipment (Fat skis, sticks, skins).

Avalanche equipment (avalanche transceiver, probe and shovel).

Airbag & avalung are optional.

Freeride backpack 25-35 liters; 

Sattelite Phone

(optional).
We recommend Fat skis (110mm and more) due to the cold and dry continental conditions between snowfalls, which create a unique 'bottomless' snowpack in this region – you will need extra wide skis for this trip.
What Guests Say About This Tour
Meeting at Manas airport or in Bishkek (if you will arrive the day before), driving to Karakol city via Boom valley, where ancient caravans of the Silk Road used to pass. We will drive along the north shore of Issyk-Kul lake, enjoying picturesque and interesting landscapes. Issyk-Kul lake is the second largest mountain lake in the world behind Lake Titicaca in South America. Accommodation at a hotel in Karakol.  
We will visit Karakol Ski Base, built on the slopes on durwhich theing Soviet time Olympic team once. Skiing among big fir trees in the forest makes this place popular among locals and tourists alike. We will divide into two groups, those who want to ski at the ski base and those, who already want to start ski touring. We will make a ski tour almost to the base of Peak Prjevalsky (4273m a.s.l.) from the highest panorama point of the ski base. Accommodation at a hotel in Karakol.
Karakol valley is a beautiful place with high mountains and dense forests. We will skitour in one spur of the gorge, where we may be able to see wild animals such as boar, deer, and others if we are lucky. An amazing view will open up as we reach the crest, taking in Issyk-Kul lake, the Kungei Ala-Too ridge, and other valleys and summits along the range. Accommodation at a hotel in Karakol.
Today we move to deep in Aksu valley. Our single yurt camp is located far away from civilization at an altitude of 2600m, with the possibility to ski from 3800m. Hot sauna and a small heated pool with beer will be prepared for you. Dinner and accommodation at the Yurt Camp.
Another great day of ski touring all day from our private yurt camp. After ski touring, another hot sauna and small heated pool will be prepared. Dinner and accommodation at Yurt Camp.
Chill until noon or make one small ascent and descent before moving on to our next ski paradise: Jyrgalan valley. Dinner and accommodation at a guesthouse in Jyrgalan with private shower and toilet. Hot sauna is available.
Jyrgalan is located on the east side of Issyk-Kul lake, and quite often a lot of snow falls here during the winter. We will spend 3 days and 3 nights in Jyrgalan, ski touring on all the best slopes near the village. This place is good for ski touring because it has many different kinds of slopes and typically a lot of snow. Hot sauna is available.
We move back to Karakol after our final full day of ski touring in Jyrgalan, and prepeare for the next day's departure to Bishkek. Accommodation at a hotel in Karakol.
Transfer to Bishkek by the scenic south shore of Issyk-Kul lake. We will stop at Fairytale canyon, named due to its bizarre rocky landscape, which for many years has been transformed by wind and rain into fabulous sculptures and formations. Short city tour in Bishkek on arrival, followed by festive dinner at traditional restaurant Supara. Accommodation at a hotel in Bishkek.
Early morning transfer to Bishkek's Manas Airport to return home.
Other Off-Road Tours You Might Enjoy