Winter Tours & Activities
Pure Kyrgyzstan Winter at its Best
Our winter activities and tours are a great opportunity to spend your vacation in the mountains and ski-resorts of Kyrgyzstan. There is so much to do in Karakol and surroundings during the winter season. Starting from the most popular winter activities, such as skiing, snowboarding, snowshoeing, and cross-country skiing to incredible journeys to the closest hot springs and yurt camps.
We have tours that are perfectly balanced with outdoor activities and cultural elements. During our tours, travelers will get an unforgettable experience, enjoy the best ski slopes with fresh and fluffy snow, soak in mineral hot springs, and discover the culture during family dinners and food activities. These tours are perfectly designed for people of any experience. If you have any questions regarding the itinerary, please do not hesitate to contact our team via email or pay a visit Visitor Center (22 Gagarin Street, Karakol, next to Fat Cat Coffee Shop)
Cross-country skiing courses
We offer our guests an unforgettable experience of skiing in a quite and peaceful atmosphere. 
Duration: 4-5 hours | Location: Karakol
Ski Touring in Kyrgyzstan
This program oriented for people who wants ski tour in great places almost all days without long driving. You will ski tour in scenic and unique places and stay in best wild yurt camp in Kyrgyzstan.
Duration: 11 days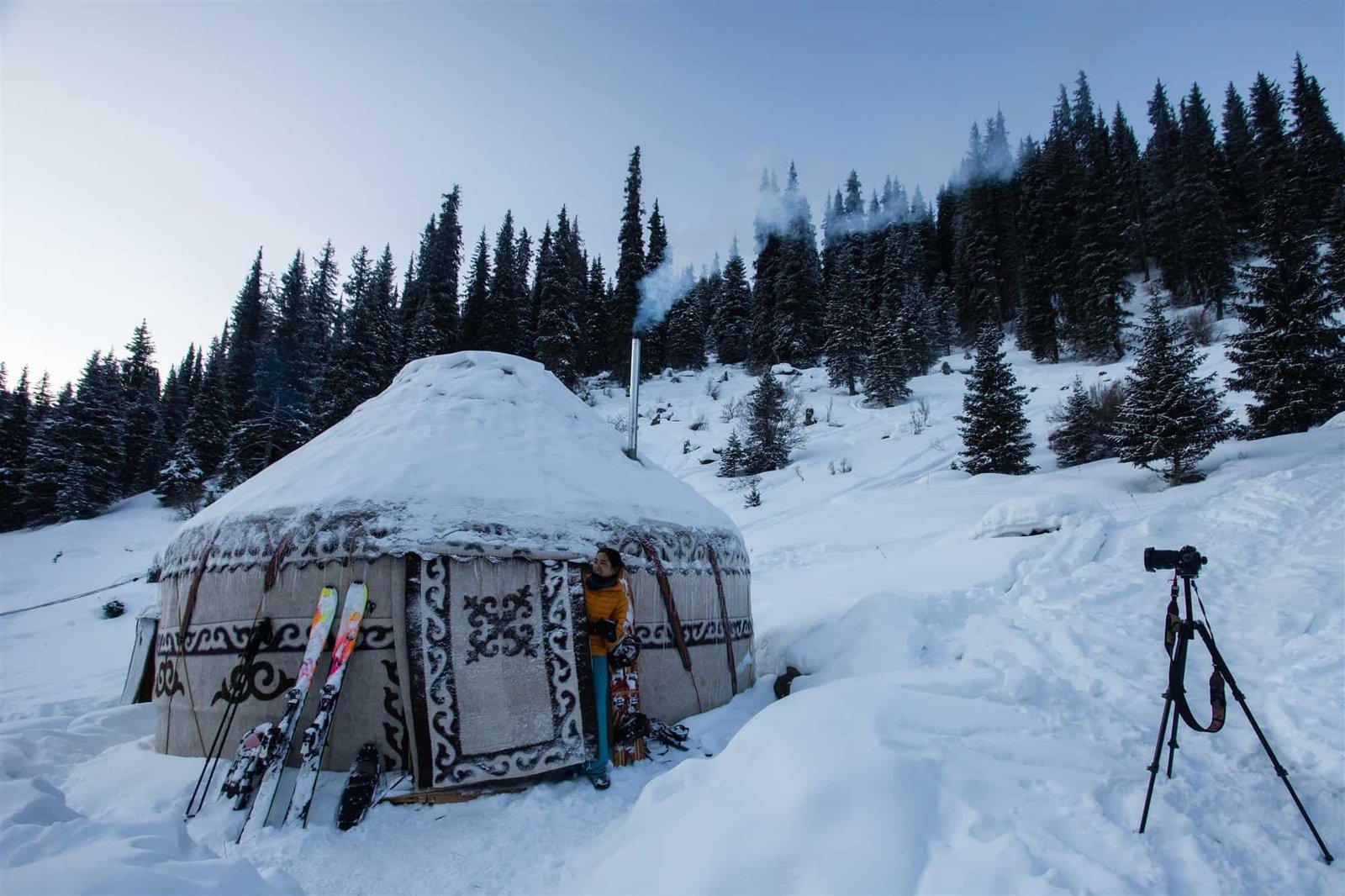 Boz Uchuk Yurt Lodge
Looking for a day of backcountry skiing without another tourist in site? Boz Uchuk is a great area for advanced skiiers and splitboarders. 
Price: from 35 USD | Location: Boz Uchuk Valley
Backcountry Skiing in Kyrgyzstan
This program oriented for groups who want to enjoy not only with skiing, but also to see cultural acivities with natural sights of Tian Shan mountains.
Duration: 10 days 
Ecotrek Winter Yurt Camp
We offer the unique experience of overnighting in a yurt in the heart of the Tian-Shan mountains in winter!
Price: from 20 USD | Location: Kok-Jayik
Ski tour on south shore of Kyrgyzstan
We are going to opposite site of our country - south of Kyrgyzstan. Climate here more mild and precipitation is coming from south west (Persian Gulf and Arabian Sea), south of Kyrgyzstan is more authentic and cultural, which is making program great and interesting from different angle.