The Sary-Jaz area is truly a unique place on the map of Kyrgyzstan. The half-abandoned Soviet village set in amongst the 6000+ meters snow-covered peaks of Tien-Shan intrigues the visitors with its enchanting history and diverse landscape.
Located off the beaten path, only a few kilometers from the Chinese border, it's an ideal place for adventurous travelers seeking to discover the unusual locations - the ones where you won't find many other people around.

This tour is for people who are interested to see the heart of Tien-Shan mountains, Soviet ambitious projects, see local life and who loves adventure!
Drive through Chon-Ashuu pass 3822m

Explore Sary-Jaz and Kaindy valleys

See Russian Empire's red army monument and petroglyphs

Possibility to stay with local family

Swim at wild hot-springs Kara-Tash

Explore the soviet abandoned town Enilchek

Trip to pre-border zones with China

You will able to see yaks, wild eagles, marmots and other wild animals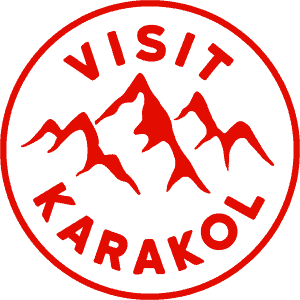 This tour is offered by Visit Karakol Tour Company. As a member of Destination Karakol, this business is actively invested in promoting tourism and community development in Karakol and the surrounding region.
Price includes:
Driver-guide
Vehicles selected category
Coffee/tea during the tour
Price:
up to 3 people – 480 USD, SUV 4х4
Note:
Lunch is not included to the price. Please book lunch boxes beforehand (300KGS per person), if you need them. Otherwise, you can take a lunch individually.
Permits to enter pre-border zone, not included to the price, you need to book a tour beforehand in order to have time to prepare permits. Price per permit is 30 USD for each person 
Important: YOU NEED TO TAKE A PASSPORT WITH YOU FOR THIS TOUR
We will drive to Sary-Jaz valley and our destination will bring us to Soviet abounded industrial town Enilchek which is located at 150 km from Karakol. On the way we will cross Chon-Ashuu pass 3822m and after that start Sary-Jaz area where climate a bit warm and dry. Futher will be millitary check point where we they will check border permit with passport. Around lunch time we will be in Enilchek town and we will explore it. After we will drive to panorama where will be soviet mines. Next point will be Kara-Tash wild hot spring (from July-mid September most of the part of hot spring will be not available because of glacier river) Overnight at tents or a shepherd's house.  
After breakfast we will drive to Kaindy valley where we will hike for 2-4 hours to ancient petroglyphs. On the way we will see local sheperd's houses and animals. 
Optional: As an option instead of walking during the trip we can rent horses. Let us know if you would like to add this to your itinerary. We will be back to Karakol around 4pm-6pm
Equipment and items for tour:

Swimming suits, towel and sandals
Warm clothes
Cap, sun glasess, high factor sun cream
Head-torch
First aid kit, if you have some disease

Recommended to have

Some Diamox pills against potential altitude sickness (if you don't have altitude adaptation)
Pocket knife
TOUR GRADE
This tour designed who want to see beautiful landscapes in untouched area with breathtaking views. Tour with long day drive. YOU NEED TO TAKE A PASSPORT WITH YOU FOR THAT TOUR.
INSURANCE
Travel insurance is NOT included. We recommend that clients have their own travel insurance against illness, injury, loss/damage to personal belongings. In case of emergency our staff will make all the best to delivery you to hospital or other point and solve your problem, insurance will cover your charges, if you don't have insurance, you will be required to cover charges by yourself.
TIPPING
Service of local staff is included to the program; however, it is polite to tip to local staff if the service has been very good. Also at your discretion, you might also consider tipping your tour manager in appreciation of the efficiency and service you receive.
Other Off-Road Tours You Might Enjoy