Enilchek & Sary-Jaz 4 days
This tour is for people who want to fully relax and retire with nature and also to experience beautiful, wild nature and untouchables landscapes with panoramic view to Tian-Shan mountains.
At the moment Sary-Jaz area is part of Khan-Tengri National park. It is the largest national park in Kyrgyzstan for the protection of rare and endangered species of flora and fauna, primarily to preserve the snow leopard population.
The territory of the natural park is still little affected by human activities, and the main landscapes have remained almost in their natural state. Currently, 457 species of vascular plants are known from the Sary-Jaz river basin, although their total number can reach 700 species, which is a significant part of the total flora of Kyrgyzstan. Five types of them are listed in the Red Book of Kyrgyzstan, 8 are endemics which are not found anywhere else, and 11 are known in the Sary-Jaz region.
Four-Day Trip to Sary Jaz
Four days of exploring Sary-Jaz and Kaindy valleys

Discover Soviet abandoned town Enilchek

Swim at wild hot-springs Kara-Tash

Possibility to stay at local family

Overnight at tent on 3000m above sea level with a view to Adyr-Tor mountains

See panoramic views to Khan-Tenrgri peak 7000m and other peaks with glaciers

Trip to pre-border zones with China and Kazakhstan

You will able to see yaks, wild eagles, marmots and other wild animals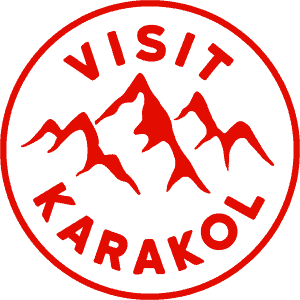 This tour is offered by Visit Karakol Tour Company. As a member of Destination Karakol, this business is actively invested in promoting tourism and community development in Karakol and the surrounding region.
Price:
1 person - 1230 €

2 person - 1430 € (total)
3 person - 1620 € (total)
4 person - 1820 € (total)
5 person - 2660 € (total)
6 person - 2860 € (total)
7 person - 3060 € (total)
What is included:
English speaking driver-guide and cook

Transportation 4x4
Full board meal
Permits to border zone
Equipment: Tents (2 person in 1 tent), mats, sleeping bags and table equipment
Water every day
Equipment and items tour:
Swimming suits, towel and sandals
Warm clothes
Cap, sun glasess, high factor sun cream
Head-torch
First aid kit, if you have some disease
Recommended to have:
Some Diamox pills against potential altitude sickness (if you don't have altitude adaptation)
Pocket knife
One of the most interesting tour. We will drive to Soviet abounded industrial town Engilchek which is located at 2500m. It is based 150 km from Karakol at the confluence of the rivers Sary-Jaz and Engilchek. With the closure of the tin mine, the population fell from 5,000 to less than 20 families. At the 2009 census, its population was 345. You need permission to that area due to the reason that it is close to the China border. Tour in Engilchek town and one of abandoned mine, after taking unique wild hot spring. Overnight at tents or a shepherd's house.
Radial hiking to unknown ancient petroglyphs located on the confluence of three rivers: Sary-Jaz, Kaindy and Uch-Kol.  Overnight at tents or shepherds house. 
Optional: Radial trekking (or horseback riding) to Kara-Bel valley (through which Kyrgyz people where running away to China from Red Army 100 years ago during Urkun.  
We will take wild hot springs on the way back to Engilchek (another name Inylchek) and further to Echkilitash. We will pass through another border checkpoint and arrive to Ak-Unkur cave. The cave consists of the two levels and starts in a large room. The length of the entire cave is 40 - 45 m, height some places up to 10m. After lunch moving to Karkyra through Turuk pass. This place well known for its green diversity. Overnight at tents.
We will visit Tamerlane's stones, after crossing next border checkpoint in Karkyra. Not far from Santash village, there are kurgans and remains of the Caravanserais, where the Tamerlane's troop used to pass. The legend has it that they were composed by the army of Tamerlane. Arriving to Karakol. End of service.
TOUR GRADE
This tour designed who want to see beautiful landscapes in untouched area with breathtaking views. Tour with long day drive. YOU NEED TO TAKE A PASSPORT WITH YOU FOR THAT TOUR.
INSURANCE
Travel insurance is NOT included. We recommend that clients have their own travel insurance against illness, injury, loss/damage to personal belongings. In case of emergency our staff will make all the best to delivery you to hospital or other point and solve your problem, insurance will cover your charges, if you don't have insurance, you will be required to cover charges by yourself.
TIPPING
Service of local staff is included to the program; however, it is polite to tip to local staff if the service has been very good. Also at your discretion, you might also consider tipping your tour manager in appreciation of the efficiency and service you receive.
Other Off-Road Tours You Might Enjoy