Kyrgyz nature and landscapes in a day trip!
This tour is one of the most impressive and exciting 1-day tours we offer. In a single day you will visit the incredibly beautiful red rock and sandstone canyons of Kyzyl-jar, the valleys of Yrdyk and Djety-Oguz, Devichy Kosi waterfall and then travel to the foot of the Oguz-Bashy peak.
As we travel through the Yrdyk valley, we will encounter archa bushes, a large species of juniper tree. Local people use small bunches of smoldering archa to clean the air from germs, diseases and evil spirits. Along the way, we will pass through grazing animals and get a chance to see the nomadic way of life. Upon arriving at Djety-Oguz valley we'll be aforded picturesque views of Seven Bulls Rocks and Broken Heart.
Driving deeper to Jety-Oguz gorge and hiking to Devichy Kosi (Lady's Plat) waterfall at Kok-Jaiyk valley and further driving to view astonishingly beautiful Oguz-Bashy peak (Yeltsin peak) 5168m. Walking around, taking a pictures and driving back to Karakol.
Drive to Irdyk and Djety-Oguz valleys

Scenic viewpoint to Oguz Bashi peal (Yeltsin peak) 5168m.

Hike to panoramic view to Kok-Jaiyk valley

Possibility to have a lunch at yurt camp

See famous rocks Djety-Oguz

Off-road trip 4x4
---
1 day  | Up to 3 people from 180 USD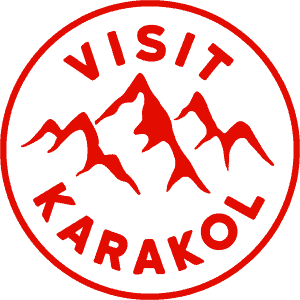 This tour is offered by Visit Karakol Tour Company. As a member of Destination Karakol, this business is actively invested in promoting tourism and community development in Karakol and the surrounding region.
Price:
up to 3 people – 210 €, SUV 4х4

up to 5 people – 250 €, Mitsubishi Delika 4х4
What is included:
Driver-guide

Coffee/tea during the tour

Payment to Jety-Oguz National Park
NOT included:
Lunch is not included to the price. Please book lunch boxes beforehand (600KGS PP), if you need them. Otherwise, you can take a lunch individually.
Equipment and items for tour:
Trekking boots
Warm clothes
Cap, sun glasess, high factor sun cream
Head-torch
First aid kit, if you have some disease
Recommended to have
TRECKKING GRADE
This tour designed who want to see beautiful landscapes with visit of main sights of Jety-Oguz gorge.
INSURANCE
Travel insurance is NOT included. We recommend that clients have their own travel insurance against illness, injury, loss/damage to personal belongings. In case of emergency our staff will make all the best to delivery you to hospital or other point and solve your problem, insurance will cover your charges, if you don't have insurance, you will be required to cover charges by yourself.
TIPPING
Service of local staff is included to the program; however, it is polite to tip to local staff if the service has been very good. Also at your discretion, you might also consider tipping your tour manager in appreciation of the efficiency and service you receive.
What Others Say About This Tour
09:00 AM - Departure from Karakol and drive to Yrdyk valley
10:00 AM - Visit Kyzyl-Jar Rock
11:00 AM - Walking in Djety-Oguz valley with a panoramic view to Djety-Oguz rocks (Seven Bulls)
12:00 PM - Walking to Waterfall Lady's Plat
13:30 PM - Lunch (As option you can order lunch at yurt camp - 400 som per person)
15:00 PM - We will go to the end of the valley to see Oguz-Bashi (Boris Yeltsin) peak (5168m)
16:30 PM - Back to Karakol
Other Off-Road Tours You Might Enjoy