Celestial Mountains
Tour Highlights:
Cross high pass around 4000 m
Overnight in traditional yurt
Visit Ala-Kul lake
Enjoy the scenic views
Get relaxation in hot springs of Altyn-Arashan valley
Celestial Mountains
---
Reserve Your Place
Preview modal-
Get in Touch About This Tour!
Please let us know the tour you would like to book, including when and how many people. We will get back to you as soon as we can with details and confirmation.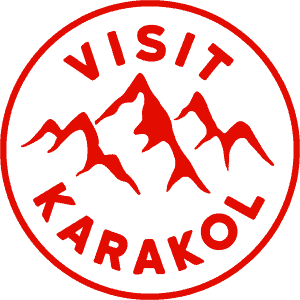 This tour is offered by Visit Karakol Tour Company. As a member of Destination Karakol, this business is actively invested in promoting tourism and community development in Karakol and the surrounding region.
Photo Gallery
Tour Details
Frequency
June-September
Duration
5 days
Area
Issyk-kul region, Terskey Ala-Too mountains range
Highest point
pass between Ala-Kul lake and Keldike valley 3860m
Good for
Adults and families
Languages
English, Russian
Weather
Rain or shine.
Connection
No signal connection
Distance
Total 100km (Walking part 50km)
Level of difficulty
Medium
Price
1 person – 1178 USD
2 person – 1377 USD
3 person – 1835 USD
4 person – 2033 USD
5 person – 2453 USD
6 person – 2651 USD
Price Include:
English speaking guide (middle level)
Cook and porters (number of porters same as number of clients
Full board 4B, 5L, 4D
Equipment: 1 tent for 2 person (single accommodation is available upon request for extra payment), mats and table equipment
Accommodation in guesthouse or yurt in Altyn-Arashan
Hot springs
Transportation
Payment to Karakol National Park
Food delivery to Karakol National Park
Price exclude:
Sleeping bags (If you don't have then you can rent from us for 3$ per day)
Insurance
Tips
What Others Say About This Tour
David
Tour Itinerary
Day 1: Karakol – Djety-Oguz – Telety pass, 7km, +500m, 3-5 hours of trekking
Meeting at hotel and drive to beginning of Telety pass in Djety-Oguz valley. Djety-Oguz (means Seven Bulls on kyrgyz language) is famous for its unusually bright, red sandstone rock formations, one of the most popular rocks are Seven Bulls and Broken Heart. Start our trek to the feet of Telety pass upon arriving. Tent camp on altitude 2800 in front of Muz-Too Rocks.
Day 2: Telety pass – Alp camp, 12km, +700m, 5-6 hours of trekking
We are moving to Karakol valley today and starting with climbing to Telety Passover (3800m). There are two steep ascents at the beginning of this passover, but you will enjoy the view on the top. Descent to Telety-East valley until the first convenient place to have lunch. After lunch descent to Karakol Valley to Alp Camp, located on altitude 2500m.
Day 3: Alp Camp – Ala-Kul lake – Keldike valley, 9km, +1200m, 6-8 hours of trekking
We are starting our climbing to Ala-kul lake (3533m). You will be amazed by this extraordinary lake. Ala-Kul lake is a rock-dammed and hidden treasure between lofty Terskey Ala Too Mountains. It lies at an altitude of approximately 3533 meters. In addition, you will be able to see the glacier where this lake begins. Ascending this Passover you will also have an opportunity to enjoy with inexpressible view of mountain summits, such Djigit, Karakol and Tashtanbek peaks. Climbing to Ala-Kul peak (3800 m) and descent to Keldike valley. Encampment in tents.
Day 4: Keldike valley – Altyn-Arashan, 11km, -1100m, 3-4 hours of trekking
Our next point is Altyn-Arashan valley. Extremely picturesque views of Altyn-Arashan attract large number of tourists. Altyn-Arashan resort is famous for hot springs. You will take a bath in the pool with radon water. Dinner and accommodation in guesthouse or yurt.
Day 5: Altyn-Arashan – Karakol, 10km, -450m, 3-4 hours of trekking
Morning excursion to hot wild springs. Walking to "Lastochkino gnezdo" (swallow's nest), Queen Frog and heart shape bathes. Walking down by Altyn-Arashan gorge to Aksu village. Close to noon car will pick you up and bring you to place of your stay in Karakol. End of the service.
Important Notes
While on a trek, you are in the wild to enjoy the nature and the thrill of it. Its very important that you stay healthy and do not take ill on the trek to have a joyful experience in the wild. Water is important during trekking, we are providing boiled water or tea/coffee during breakfast, lunch, dinner, however boiling the water is limited, and it is not enough if you will need to fill up your bottles for next day. Water can be a cause of stomach problems on a trek. On the other hand, you need to drink lots of water to stay hydrated. Water in some hills are also the source of water for animals and wild animals on the higher area. Always fetch water from running streams. The faster the better. Stagnant water has high risk of bearing pathogens, irrespective of the cold surrounding. Whereas, as fast gushing water has very low chances of bearing pathogens in it. It even has less particulate materials. You will be able to fill up water from natural springs, it's the best as it acts as a natural filter and has very less chances of having particles in it. Local people same as a lot of tourist don't have a problems to drink water from the source, however if you are not sure please bring water cleaning pills with you for the trek from your homeland. You will not be able to find water cleaning pills in Kyrgyzstan.
The item of luggage used to carry all your belongings in the hold of the plane and used to store all of the items you don't need on trek. This can be left behind at the group hotel used prior to the trek.
Almost all of our standard programs designed for not too long hikes, usually 4 to 8 days. We are providing as default 1 porter to 1 person, which carry 15 kg, that weight including food, tents, cooking staff and private things of clients, usually around 3-5kg first days. Everyday weight of food dicreasing and you will have possibility to give extra weight to the porter. You can order extra porter, if you having some big weight items as camera with lens, special equipment and etc. You will need to pay extra 30 euro per porter per day.
30-50 liters recommended. During the course of a trekking day, you do not have access to the luggage, which is being carried for you by the porters. In mountain region, the weather can change very fast and you must be equipped for this eventuality. Your day sack should therefore be large enough to carry waterproofs, fleece jacket, long trousers (if walking in shorts), warm hat and gloves, sun cap, sun cream, water bottle and other staff which you need during the trek. On a few occasions, it is also necessary to carry your own packed lunch.
You need to have a good level of fitness and previous trekking experience is recommended. Trekking days are generally longer, challenging and at higher altitudes up to 3800 meters. Terrain may be difficult and ascents and descents are often demanding, especially during rain or snow.
Travel insurance is NOT included. We recommend that clients have their own travel insurance against illness, injury, loss/damage to personal belongings. In case of emergency our staff will make all the best to delivery you to hospital or other point and solve your problem, insurance will cover your charges, if you don't have insurance, you will be required to cover charges by yourself.
Breakfast: consist some of following dishes: Porridge, omelet, omelet with fried sausages, pancakes, scrambled eggs with sausage, boiled eggs and etc + bread, jam, butter, honey, sweets, tea/coffee. Lunch boxes or lunch: Dried fruits, chocolate, yogurt, juice, cheese, sandwich, vegetables/fruits and tea/coffee. Dinner: Our cooks is preparing european and asian cuisine You need to let us know if you are vegetarian or have some preferences, so we will be able to make special menu for you.
Service of local staff is included to the program; however, it is polite to tip to local staff if the service has been very good. Also at your discretion, you might also consider tipping your tour manager in appreciation of the efficiency and service you receive.
Tour Map
BOOK THIS TOUR
Get in Touch About This Tour!
Please let us know the tour you would like to book, including when and how many people. We will get back to you as soon as we can with details and confirmation.
Details and Booking
Other Trekking Tours You Might Enjoy
Tour Details
Tour Details
Tour Details